Transporting a bean bag to another place is quite challenging, even though they have lightweight fillings because of the size.
Thus, some people have to spend much on transportation. If you are looking for a safe method to transport your bean bag from one location to another, you can follow the below procedures. I am sure it will save you both time and money. 
Bean bags have lots of air pockets inside the fillings. That facilitates the comfort feel. But you may face trouble when you have to transport it from one house to another house. Hence, shrinking is the best method to reduce the volume of the bean bag and move it swiftly. 
Therefore, I here mention several methods to reduce the volume of the bean bag. Then you can transport them easily. So, you can try out one way among them.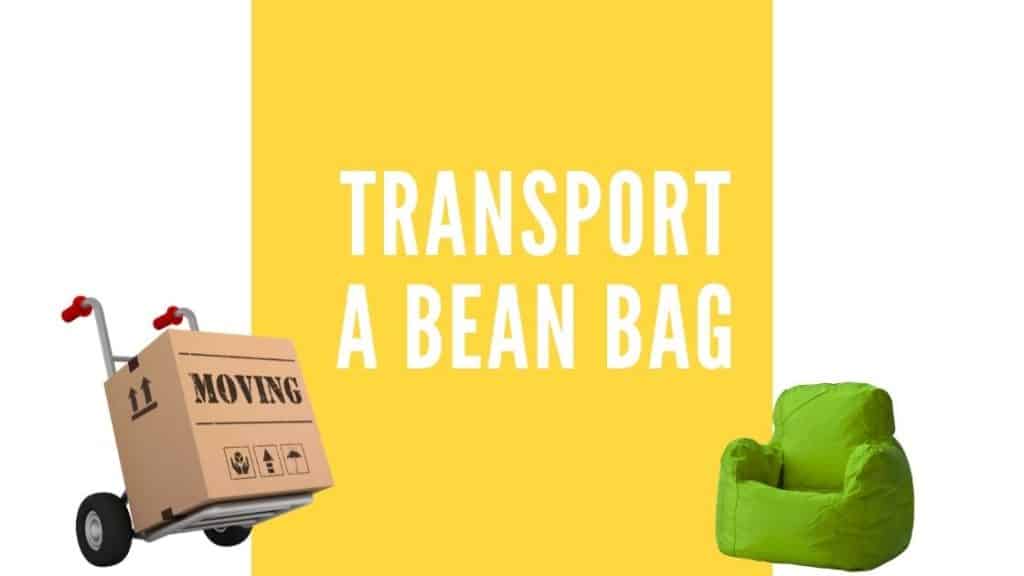 Table of Contents
Methods to Shrink the Bean Bag and Transport
Method 1: Using a Vacuum Cleaner and Box
Step1: First, cover the bean bag with a heavy-duty plastic bag 
Step2: Then, place vacuum cleaner tube inside the plastic bag
Step 3: Next, point the end of the vacuum pipe into the bean bag and wrap the plastic bag opening around the pipe.
Note: Do not let the polythene bag suck into the vacuum pipe. Because it can be damaged or melt. If it happens, you have to begin the shrinking process again from step 1. 
Step 4: Turn on the vacuum machine and apply pressure on the bean bag to remove air pockets.
You need to take support from another person to pressure up the bean bag. Then, he can use his hands to push or sit or kneel on the bean bag. 
Step 5: Then, the bean bag deflates gradually.
Step 6:  You should continue the vacuum and manual pushing process until the bean bag is fully compressed.
Step 7: Pull out the vacuum pipe quickly from the plastic bag and tape the opening immediately.
In this step, you should avoid entering the air again into the bean bag. Because if air pockets create again, the bean bag volume will increase. 
Step 8: Place the shrink bean bag in the box. 
Step 9: Now, your bean bag is ready to travel. 
Step 10: Finally, you can place shrunk bean bag in the boot or hood of your car. Also, you can put it on your seats too because it is not taking a huge space in your vehicle. 
Additionally, bean bags can take the container shape, hence take suitable size boxes that are not damageable easily. If you use a too-small box, it may bump on the sides.
Also, do not take the too-large box because you have to use more packing materials to prevent the bean bag chair from shifting from the box.
Method 2: Using a Love Sac Tool Kit
The love sac tool kit is a set of package designs to help bean bag transport. You can easily purchase them from supermarkets or online stores like Amazon or eBay. 
The love sac tool kit provides all essential tools such as a 
giant cinch duffel bag, giant plastic bags, and one set of instructions. These tools help to shrink and transport bean bags safely from one place to another. Also, it is an ideal way to transport bean bags from one country to another without any fear. 
Here, you have to follow the 1-6 steps that I mentioned in method 1. But there is a slight difference in steps 7 and 8. Thus, please follow these additional steps when you are using the love sac tool kit.
Step 7:You should place the shrink bean bag in the duffel bag. Then continue the vacuum process until bean bag size is set to duffel bag size.
Step 8: Then, zip the duffel bag to the place of the vacuum pipe
Step 9: Then, immediately remove the vacuum pipe and seal the polythene open
Step 10: Now, you can completely zip the love sac duffel bag
Generally, this packing process takes 10 minutes. Further, it is better to have at least two supportive people pack your bean bag with a love sac. Additionally, it can reduce the size of the bean bag to five times smaller. 
Moreover, you do not need to worry about polythene sac or duffel bag damages. Because these materials have standard thickness and do not easily damaged, but this product is quietly expensive. It ranges from $65 to $75.
Finally, you can place your well-arranged bean bag in the boot, hood, or seat of your vehicle. Moreover, this love sac duffel bag has two cloth handles, and it makes carrying them easy.
Further, if you are using public transport such as train or bus, love sac kit is a perfect solution. You can carry it as a regular traveling bag. Further, you can transport shrunk bean bags easily in air cargo system shipments.
Method 3: Cost-Effective Way to Pack and Move Bean Bag
Step 1: First, take two large size trash bags
Step 2:  Secondly, remove the outer lining of the bean bag by opening the childproof zip 
Step 3: Then, remove as much foam you can to the trash bag
Step 4: After that, close and leave that trash bag 
Step 5: Now, your bean size is pretty tiny. Thus, zip it again and add it to the trash bag
Step 6: Seal the trash bag open and hold vacuum on top of the bag
Step 7: Then, turn on the vacuum machine
Step 8: Compressed trash bag as much as you can and wrap it with saran wrap
Step 9: Keep the vacuum on while doing the compress  
Step 10: Finally, remove the vacuum from the trash bag quickly. Then seal and wrap the rest of the trash bag using saran wrap. 
You can follow the same steps for the second trash bag that is filled with foams. But use a sock at the end of the vacuum pipe to prevent foam suck into it.
It is better if you can put this compressed bean bag into the box to prevent damages. Because trash bags can easily damage, and then air pockets can create in the bean bag. 
This method is one of the most cost-effective methods. To perform this method, you only need two trash bags, a vacuum machine, and one of your friends. 
Further, you may spend at least 1.5 to 2 hours perform this task. After shrunk the bag, it is better if you can put it in the box. Especially if you are using public transport, wrap it properly. Because accidentally cover will damage, bean bag recover into the same size again. Further, it is not recommended to tie this method bean bag to the vehicle hood area. 
Method 4: Take Assistant from an Expert
If you are difficult to pack and transport bean bags by yourself, you can get support from experts. Some agencies help to move your furniture from one place to another place. 
Then leave them to do this job. These agencies will provide the most suitable answer or methods for you. They will have plenty of ways to transport your furniture and bean bag safely.
Method 5: Remove Beans and Move the Bag Only
If your bean bag fillings are not in good condition, you can remove them from the bean bag. Then dispose of the bean bag fillings properly. Now you can easily pack your bean bag with other bedsheets and clothes. 
In this method, you need to worry about the space. Hence, if you have a space problem, this is the best method. After settling down in a new place, you can purchase new bean fillings and refill the bean bag. Further, when you are moving from one country to another. You can practice this method too.
Conclusion
If you have a bean bag, indeed, it will be your best friend or best comfort zone. Thus, you want to always keep it with you. But some people face trouble with their size. Therefore, it takes ample space from the vehicle while transporting. 
Hence, in this article, I explain the best methods to transport your bean bag from one place to another. I'm sure now you better understand it.