These days people pay more attention to sanitizing surfaces, including bean bags. Mostly they use different sanitizers made with alcohol for this. The standard sanitizer includes more than 75% alcohol, less than 25% water, and 1% emollients, colors, and fragrance. 
Besides alcohol, people use soap, liquid detergents, and hot water to sanitize their bean bags and other accessories. However, before sanitizing your bean bag, you should pay attention to the fabric used to prepare the bean bag. According to it, you should select the correct sanitizer to clean.
Most probably, you may not have an exact idea about the best sanitizers for your bean bags. Hence, here I include all information about how to sanitize bean bags. So, keep reading!
Table of Contents
How to Sanitize a Leather Bean Bag
There are two types of leather available in the market. One is synthetic, and the other one is natural. Whether your leather bean bag is prepared with synthetic or natural material provides living space for viruses, bacteria, and molds. Moreover, some viruses also can live several days on the bean bag.
So, to keep the hygiene of your home at an optimum level, you need to sanitize your bean bag. But do not use bleach or alcohol on leather when you disinfect because they can react with a leather cover. As a result, your leather bean bag may get discolored.
So, to sanitize your leather bean bags, use the below methods.
Use Chamberlain Leather Milk ( You can purchase them from the market or online)
Rub leather bean bag by hot cloth along with a bit of light shampoo
Dip a sponge in hot water and rub and clean dirty leather
How to Sanitize a Vinyl Bean Bag
Us Environmental Protection Agency (EPA) approved solutions list that is effective against various viruses. So, among them, some sanitizer can use for vinyl bean bags too.
But before you use any chemical for your bean bag, test them on a hidden or inconspicuous area of the bean bag. After ensuring that the solution may not damage the color or texture of the vinyl fabric, you can use it for a bean bag.
These solutions are suitable for the vinyl bag.
A solution of 10% bleach mixed with 90% clean water
Super Sani-cloths
Virex™ II, 256
Clean vinyl bean bag with mild detergents and cold water
A solution prepared with one cap full of mild hand soap and one liter of water 
Some sanitizers or disinfecting agent has active ingredients such as Hydrogen Peroxide, Bleach, and Alcohol. These solutions are also permitted to be used to disinfect vinyl bean bags. So, follow these steps.
Step 1: Use a mild concentration of a certain sanitizer
Check manufacturer guidelines and use sanitizers according to them.
Step 2: Spray it on the vinyl bean bag cover.
Step 3: If sanitizer manufacture ask to wait a few minutes, allow that time
Step 4: Wipe vinyl bean bag with water
After cleaning the vinyl cover using the above solutions, it is strongly advised to wipe off disinfectants using clean water.
Step 5: Dry the bean bag using a dry cloth or towel
After that, use a clean, soft towel to remove chemical residuals from the bean bag. Do this until your bean bag is thoroughly dried.
Because chemical residuals can remain in a bean bag for a long time, it may cause discolor, crack, or degrade bean bag materials.
Step 6: Condition your vinyl bean bag to avoid drying and cracking
Once you have finished disinfection, it is vital to condition vinyl fabric. You can use Genie plus product line for that.
The Genie plus has a low-level disinfection ability. It can create a protective coat that resists bacteria, mold, and biofilm. So, it can protect your vinyl bean bag further.
Do not use disinfectants that are designed for hard surfaces like floors. They are extremely harmful to soft porous surfaces, including vinyl fabric.
Also, do not use concentrated solutions for vinyl. So, when you are using strong disinfectants, dilute them according to manufacturer guidelines. 
Avoid exposing your vinyl bean bag to direct sunlight for disinfecting purposes. Also, do not iron or dry clean vinyl bean bag cover. These are not effective for vinyl bean bag covers. 
How to Sanitize a Cotton, Linen, and Denim Bean Bag
Generally, most people love to sit in comfortable seats. After working, people come home; they lay down a few minutes on bean bags before getting washed.
Or else, visitors come to your home and sit on the bean bag. Can you avoid these things? That's how bean bags have been a hotspot of germs.
There are plenty of bean bags that come with cotton, linen, denim fabrics. So it is vital to know how to clean and sanitize these bean bags to maintain hygiene.
There are some sanitizers and liquids that are most popular for disinfecting fabric surfaces. So, you can use them to sanitize your bean bag. Check the below list.
Savlon Clothes Disinfectant and Refreshing Spray
You can use this disinfectant spray for all types of clothes. Savlon Disinfectant Spray can eliminate bacteria, molds, and fungi. Another advantage is, this spray is free from the bleaching agent. Thus, this sanitizer is ideal for cotton, woolen, denim, linen bean bags. 
Dettol After Detergent Wash Liquid Laundry Sanitizer
You can use this after washing your bean bag cover. It ensures that your bean bag cover does not have any germs or impurities. These solutions are specially designed for fabrics and clothes. So, it acts gently on bean bag fabrics and keeps the material looking good. 
Raho Safe Multipurpose Surface Disinfectant Spray
This solution also has the ability to kill microorganisms. And also effectively work with fabrics. Thus you can use this solution for bean bags too. 
Greenbrrew Alcohol-Based Air Sanitizer & Disinfectant
Greenbrrew alcohol-based air sanitizer can kill 99.99% of germs, bacteria, and harmful airborne virus that causes sinuses, allergies, and common flu ailments, according to the manufacturers. So, shake them before use and spray them at a 20-25 cm distance from a bean bag. Then let it dry, and no need to wipe. 
Steam Cleaning
Steam can kill most bacteria, viruses, and fungi. Other than that, scientists proved the 60oC-90oC temperatures could kill viruses. So, you can use a steamer to sanitize your bean bag made with cotton, linen, or denim fabrics.
However, remove the bean bag cover before using a steamer because the bean bag may have different fillers. Thus, the high temperatures can deform them. Also, read bean bag manufacture guidelines too.
The OkPure Fabric Sanitizer Spray
As per the manufacturer, this is a 75% alcohol-based solution and can kill 99.9% of viruses and bacteria. Also, powerful fragrance removes odor-causing bacteria.
Moreover, OkPure fabric sanitizer has a quick-dry formula and does not leave any harmful residue. Thus, you can use this for sanitizing your bean bag. 
However, before using any sanitizer or solution, do a sensitivity test on the small area of the bean bag. Then you can exactly know that sanitizer will not affect your bean bag appearance.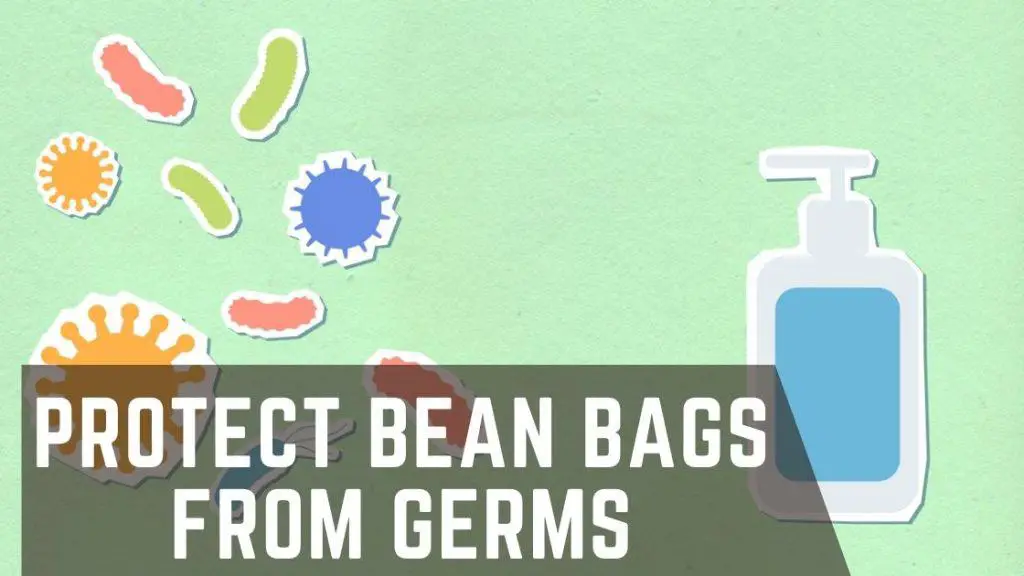 Protect Your Bean Bag From Harmful Germs and Viruses
I hope now you have a better understanding of how to sanitize your bean bag. Rather than these methods, I am going to share some tips and tricks with you. These techniques will help you kill, beat and reduce the lifespan of viruses in a pandemic situation. 
Open doors and windows for air movement
Turn up the heat in the house to dry out the virus's gel-like outer shell
Do not sit in the bean bag before taking a shower
Keep the floor mopped. Because it can provide living space to microorganisms
Leave your bean bag outside the shelter area once a week
Don't shake dirty bean bag
Final words
When you sanitize your bean bag, you should be smart, safe, and strategic. You cannot use the same sanitizer for different bean bags because their properties change with their material and filler types. Thus, selecting the best sanitizing method for a particular bean bag is essential.
It will save you from microorganisms and also protect your bean bag from sanitizers. So, disinfect your bean bag with the correct sanitizer and enjoy your day comfortably!