Generally, any material may burn under high temperatures and fire, including wood, rubber, polythene, and fabrics. This theory applies to bean bags too. The bean bag flammability depends on the
Type of fire accident
Bean bag fabric nature
Kind of bean bag lining fabric 
Filler type 
Also, the risk and severity of bean bag hazards vary with numerous factors. Hence, awareness is the best way to eliminate fire hazards. Keep reading! You may get a better idea about the fire safety of bean bags.
There are many possible ways to begin the fire. Also, most of the hazards are happening due to people's careless activities. Thus, keep away these things from the bean bags. It will ensure the safety of you and your family.  
Cigarettes and cigars
Matches and lighters
heaters
Candles
Kitchen tools
Wood-burning stoves
Barbecue grills
Not only above things, but even sunlight can damage bean bags with fire burnings. However, it depends on the bean bag's fabrics type and its flammability.
Rules and Regulations Regarding Bean Bags
During past decades, there some cases record regarding bean bags. Also, fire hazards are included in that list. Hence, the major countries that are producing bean bags are involved in solving this problem.
For instance, Australian, United Kingdom, and United Status governments published regulations and policies on furniture. Mainly to control the fire hazards. Also, they introduced specific standards for bean bag fillings and fabrics.
Consumer Product Safety Commission (CPSC) is the authorized body regulating fabric's flammability of United Status. Also, Australian Competition & Consumer Commission (ACCC) is controlling the bean bag standards in Australia.
Moreover, according to the U.K. flammability fire safety regulation 1988, bean bags fabrics and filling beads should pass some specific tests before producing the bean bags.
On the other hand, as a consumer, you should purchase quality bean bags. To do that, you have to check the fire safety measures of that product. Further, you should have good knowledge regarding the possible fire hazards of bean bags.  
Read more on Bean Bag safety here.
Are Bean Bags Fire Retardant?
Even though all fabrics used for furnishings can burn under certain heat conditions, the different types of fibres also burn in different ways. But you can reduce the fire risk by purchasing a bean bag prepared with less flammable or fire-retardant materials.
The fire retardant property of the bean bag varies with the following factors;
Bean bag material types
Manufacturer
Brand
Country
Thus, when you are choosing the best bean bag for you, carefully check the following safety conditions.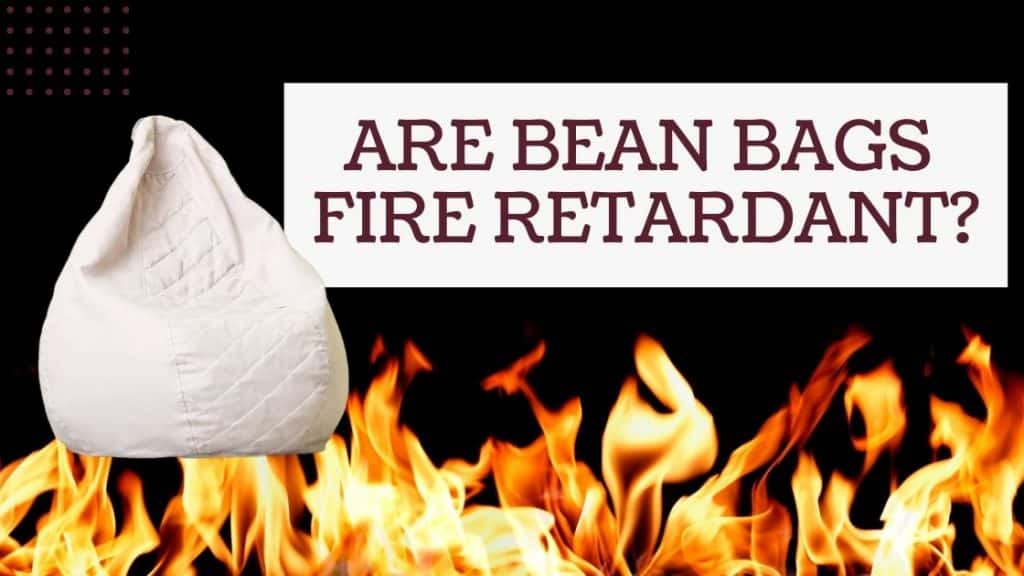 Fire Retardant Property of Bean Bag Filling
It would be best to consider the bean bag filling type and its properties before purchasing the bean bag because most bean bags filled with Expanded Polystyrene (EPS) beads. 
EPS are also known as non-foam fillings. Hence, it should pass the specific safety regulation enforced by the government before using the bean bag.
Moreover, expanded polystyrene is pretty safe in normal conditions. In native conditions, it can tolerate temperatures until 200 o C.
But manufacturers add fire-resistant coating on expanded polystyrene filling beads to increase the fire-resistant properties. Thus, it does not burn until the temperature reaches 300 o C to 500 o C.
Fire Retardant Properties of Bean Bag Fabrics
Generally, you can select bean bags made with Nylon or polyester synthetic fabric because they are slow to ignite. Also, its shrinks away from heat.
Moreover, the lower density fabrics can burn easier in the fire. Hence, thick materials are safer than cheap thin fabrics. Cotton, linen, and other cellulose fibres are the most flammable fabrics. Therefore, they ignite easily and burn with bright flames.
Also, Rayon and acrylic fabrics are highly flammable. The rayon fabric shrinks while ignites, and acrylic may melt and drip.
Generally, natural fibres are more flammable than synthetic fibres. But exceptionally, both silk and wool are tough to ignite. Thus, they burn slowly. Most woollen and silken fabrics are self-extinguish. Therefore usually, they do not burn totally.
Cigarette Resistant Properties of Bean Bag
According to the U.K. flammability fire safety regulation, the upholstery composites should be cigarette resistant. Thus, select the bean bag that produces with cigarette-resistant fabric.
Check the Permanent Labels
According to the law, every standard piece of furniture except a mattress should have a permanent label. Also, it should mention its fire-retardant properties. Hence, check that label before purchasing a bean bag from the market.
Match Resistant Properties
The bean bag fabrics should be match-resistant. Hence, do not purchase bean bags that composite more than 75% of the below-mentioned fabrics separately or combined.
Cotton
Viscose
Modal
Flax
Silk
Wool
If the above bean bag fabric exceeds the 75% limit, they lose their match-resistant property.
Further, refer Domestic Flammability Guide. Then select the best bean bag that aligns with fire redundant guidelines.
Are Bean Bags Cause Fire Hazards?
Yes. Bean bags can be a reason for a fire hazard. If you do not buy a standard fire redundant bean bag or misuse fire tools, you may face a bad experience. Thus, here I mention some precautions to prevent fire accidents.
Keep the Bean Bag Away from Flames
Never use ignited candle near the bean bag.
Do not use a barbeque machine near the bean bag.
Because barbeque machines can spark, if these sparks touch your bean bag, it may cause to begin a fire hazard.
Do not smoke and throw out the cigarettes near the bean bags.
Do not allow kids to play with fire.
Keep your bean bag away from the cooker.
Do Bean Bags Need to be Fire Retardant?
Bean bags are using different age levels of people, including toddlers and adults. So bean bags need to be fire retardant for the safety of it's users. 
People use different types of bean bags during the day-to-day activities. Also, they use them on occasions, such as get-together parties, bachelor's parties, and candle night parties. Also, they use fire-emitting tools like candles, matches, lighters, barbeque machines near the bean bag. 
Moreover, toddlers love to play with a bean bag. They always try to experiment with different kinds of tools, including fire emitting devices. Also, they are doing unexpected things.
Further, the bean bag is not a tiny piece of furniture. Hence fire damage can happen at any time, mainly if you or your toddler misused it. It may be severe or even kill you or any other person. Thus, it is essential to buy fire-retardant bean bags for daily usage.
We all love to live comfortably. But do not forget to live safe because you are the most precious person in the world.
Are Our Bean Bag Chairs Flammable?
Anything can burn when it reaches specific heat. This fact is also applicable to bean bags and bean bag chairs are flammable. But bean bag chairs' flammability level varies with the type of material and filler beads.
The bean bags prepared with certain safety precautions have less flammability. But some soft, dense fabrics and non-coated polystyrene beads have less flammability. Therefore purchase the bean bag that is made with specific fire safety regulations.
| | |
| --- | --- |
| Material | Flammability |
| Nylon | Low |
| Polyester | Low |
| Silk | Low |
| Wool | Low |
| Cotton | Moderate |
| Linen | Moderate |
| Rayon | High |
| Acrylic | High |
| Fire-Resistant Coated Polystyrene Fillers | Low |
| Non-Coated Polystyrene Fillers | Moderate |
You can easily identify the bean bag's safety by its label tag. The standard fire redundant bean bags should mention the "caution" in red color.
The display label may have to Indicate the ignition resistance of bean bag materials. Moreover, the caution tag must attach to the prominent position of the bean bags.
Standard "Caution" Tags
These are the common caution tags that appear in bean bags. You can read them and decide the best type that suits you.
Careless use of matches could set fire to this furniture.
Meets 1998 safety regulations by the inclusion of a fire-resistant inter- liner. Careless causes fire.
Cover fabric does not match resistance.
All filling materials meet the 1998 safety regulations.
Filling materials and covering fabrics meet the requirement for resistance to the cigarette and match ignition in the 1988 safety regulations, carelessness causes fire.
In the tag, manufacturers mention "carelessness causes fire." Hence, the flammability mainly depends on your activities. Keep in mind and properly use your bean bag to eliminate fire hazards.
Can you Burn a Bean Bag?
Yes, you can burn bean bags as other furniture. But be careful when burning the bean bag because it can cause severe health damage for the environment and humans.
All of these fabrics comprise a different kind of chemical compound. For example, vinyl fabric prepares by using a colorless gas known as vinyl chloride. Hence, if you burn a vinyl bean bag, it may release unfavorable smoke. Not only vinyl fabric but also other materials may release harmful gasses and compounds when they are burning.
Further, burning expanded polystyrene is not a good idea. Because researchers said that they release toxic chemicals when burning. It is not healthy for the environment and also for human beings. If humans smoke these poisonous chemicals, their lungs and nerve system may damage. 
Hence, after used your bean bag, try the recycling method or any other disposal method. Most of the time, polystyrene is not easy to recycle. Therefore, you can use it for recreational works.
Please read our guide on how to dispose a bean bag chair properly.
Final words
The Bean bag is an excellent designed, comfortable seat. But when you are going to purchase them, do not look at only the outer beauty and relaxing properties. Please check its fire redundant and safety precautions too.
Because safety must be the first factor that you should consider when purchasing anything. I hope this article helps you to choose the best bean bag that has specific standards. Keep enjoying your lovely seat.