Selecting the best fabric for bean bags is a tedious task. You must have a sound knowledge of different fabrics and the various occasions these materials are used.
Different fabrics are used in different bean bags because the purposes of those bean bags are different from each other.
You can use Vinyl, Cotton, Corduroy, Faux Suede, Faux Fur, Leather, Silk, Denim, Velvel, and Microsuede fabric for the bean bags used indoors. But for outdoor bean bags, you need to select a different material as the primary purpose of outdoor bean bags is rough usage and waterproofness.
Now let's go deep into everything about the best fabrics to create a comfy bean bag.
Table of Contents
Best Fabric For Indoor Bean Bags
The best fabric for indoor bean bags is linen or natural fiber. It feels more comfortable against your skin. Moreover, linen or natural wool will work well without staining. Further, commercial grade vinyl or polyester is the best for outdoor bean bags because these are waterproof materials and have more durability than other fabrics.
There are many other fabrics that you can use for bean bags. Also, bean bags take more pressure on their seams than traditional couches or lounges. That's why there is not a solid foam backing behind the fabric. Due to this nature of bean bags, all fabric you get should have a "solid backing" on them.
A reinforcing layer of material adhered to the reverse side of a fabric is called "fabric backing." It provides extra strength to the bean bags and makes the fabric very strong. Again, depending on the purpose, select the best type of fabric you need.
Vinyl
Vinyl offers you all the properties you wished to have on a sofa. If you throw it into a pool, it will not absorb water. Vinyl will not fade when left in sunlight. Moreover, it does not lose its original color if you dump a liquid on it. 
Generally, manufacturers use commercial-grade Vinyl to make bean bags. It delivers you a lifetime warranty.
It is not cheaper than the Vinyl you use at home but contains a comfortable backing. Commercial grade vinyl forms a thin foam layer for greater density and a comfy feel. As proved by many tests' Vinyl can be passed down to your children for the best consumption.
Cotton
Cotton is a natural fiber that can fit in nicely with furniture. Also, it is a popular fabric to make bean bags. Furthermore, cotton fabrics usually match the bedrooms' bean bags and kids' bean bags. 
Generally, cotton comes in a wide range of colors. But the color will be dyed onto the fabric instead of embedded into the fabric. Hence, it is best to keep away from sunlight since the color will fade over time. 
Further, the cotton weave is very tight, and there is backing on the fabric. Hence, this can prevent the texture from becoming loose. But cotton weave can become loose if you put pressure into it with both hands. 
It is essential not to allow water to be exposed with cotton bean bags because chlorine of water will decay the fabric.
Corduroy
Corduroy has been used to make bean bags for hundreds of years. Fustian fabric is the derived source of corduroy fabric. Also, corduroy has good durability and properties like velvet. 
Generally, if you pull corduroy into various directions, it can remain without changing. As well, corduroy is made by weaving extra fabric into a base material. Therefore, the backing is not necessary for corduroy.
Faux Suede
Faux suede or fake suede is a fabric-like animal skin. It is an artificial fiber and animal-friendly alternative. 
These days faux suede has become very popular among young generations. Further, it works well when preparing bean bags. 
But faux suede is not so good against stains or animal fur since hair can get caught up in these artificial fibers. Hence, bean bags made of Faux suede are only working well for indoor purposes.
Faux Fur
Faux fur is another fabric that looks like animal fur. It is made from 'cellulose' and other synthetic materials. The technology has made faux fur very similar to the original fur of the animals.
Further, companies introduce more versions of faux fur that are ideal for bean bags with technological growth. 
The thickness of the fabric should be more than 400 grams per square meter to bind the bean bag. Also, the thickness of the fabric will decide the strength of the bag. Therefore, it is vital to get thick faux fur to make bean bags.
Leather
Leather is a fabric that has been used for centuries. Therefore, it is widespread even today. Moreover, sofa lounges, car seats can be decorated using Leather fabrics.
The leather works very well when making bean bags. You can easily sew leather with an industrial sewing machine. After sawing, it can be tanned into many colors. Furthermore, the backing is not necessary since the strength of leather itself is more than enough. 
But there are few downside effects when using leather. It can crack over time when exposed to the sunlight. Also, when a liquid is drained off, it tends to show water stains. 
Moreover, the marks can be seen on leather after pressing or folding it.
However, leather is one of the most expensive selections when it comes to fabrics for bean bags.
Silk
Silk is not a very common fabric that is used for bean bags. Moreover, it is more costly than leather. But it is a lightweight material. Therefore silk fabric is ideal for users who search for light material to create bean bags. 
Further, silk fabric gives extra comfort and peace to users. Therefore, some specific people love to have bean bags that are covered with silk fabric. 
Denim
Denim is a stylish fabric that is famous in modern generations. Also, it is the best kind of cotton material. Therefore it gives a comfortable feel to the user. Further, denim fabric decorates bean bags with a unique and decent look. 
The denim fabric has a firm texture. Hence this material has long durability. Additionally, it is easy to clean and has a minimal effect when exposed to sunlight. The teenagers who love to feel smart use silk fabrics. 
Velvet
Velvet can work well for bean bags. However, it needs a backing built into the fabric. In addition, bean bags made from velvet can carry more pressure compared to traditional furniture.
Further, velvet feels more comfortable against your skin. But it requires good care to keep it looking great. So you should maintain a velvet in excellent condition to look well.
Microsuede
It is a good idea to select a microsuede fabric to have an entirely distinctive feeling. It is an attractive and stylish fabric. 
Also, microsuede is a type of leather with a velvet or furry finish. Hence, Microsuedes are comfortable to use. 
However, it is a bit difficult to clean this fabric. Additionally, handle microsuede with proper care to increase the fabric's durability.
Patterned Fabrics
People love to purchase patterned fabrics for their bean bags because they can customize the bean bag according to their requirements by using them.
In the market, there are various colors and patterns of bean bag fabrics. Moreover, cotton is the commonly used material to create patterned fabrics. Thus, it also gives a comfortable feel.
Best Fabric For Outdoor Bean Bags
Be mindful to select bean bags made of more durable fabrics for outdoor purposes. Soft, shower proofing materials that are resistant to sunlight are ideal for this.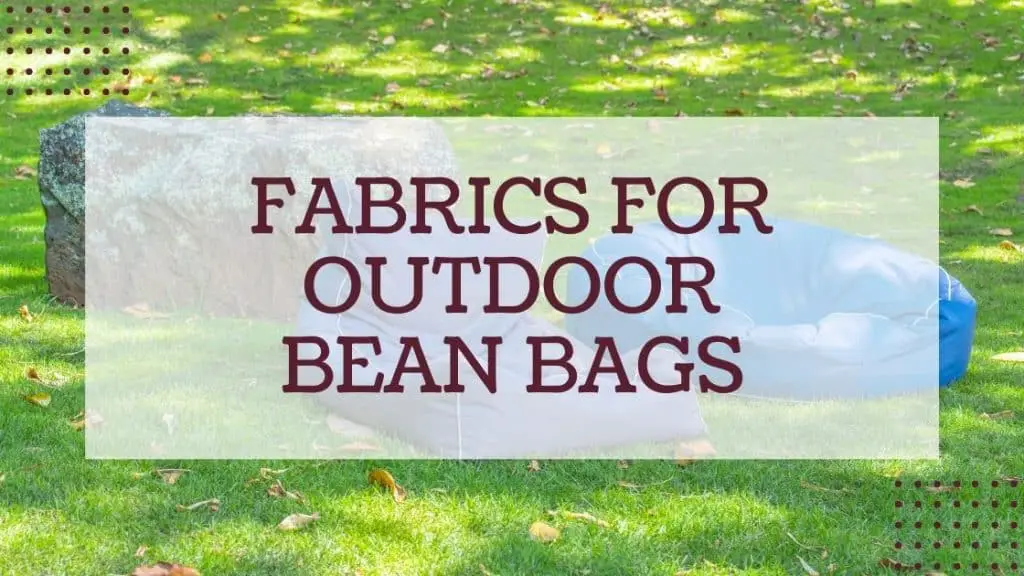 400D Polyester
The 400D polyester is one of the cheapest and mass-produced fabric types used for outdoor bean bags. Moreover, this polyester is coated to improve its quality and enable outdoor use. 
Additionally, this fabric is very thin and lightweight. But it is not very comfortable and challenging to clean. Also, 400D polyester has a cheap appearance and feel. 
420D Nylon with an added PVC coating
420D nylon with an added PVC coating is a standard fabric for outdoor use. Nylon is naturally stronger than polyester, so this material is a strong type of fabric. 
It is an acceptable choice, but it lacks the flexibility and comfort of higher-density polyester.
600D Nylon or Polyester
Some manufactures utilize 600D nylon or polyester to produce bean bags. Further, it is higher on the quality scale and provides more comfort.
600 D nylon is also considered a top-rated material that is used to create most outdoor bean bags. Additionally, it gives you the highest durability, the most comfort, and the most effortless care.
Olefin
Olefin is a new fabric of synthetic fiber. Yarn-dyed olefin is ideal for outdoor furnishings.
Further, olefin has several advantages over other fabrics. These include superior strength, colorfastness, and comfort. It also has a high resistance to staining, mold, mildew, abrasion, and sunlight.
Waterproof Fabric For Bean Bags
Here, water cannot penetrate through the fabric of the bean bag. Also, different waterproof materials are available in the market. But they may not always be comfortable. Therefore, select the fabric type carefully to meet your requirement.
Faux Leather
Faux leather will help your bean bag to keep liquid away. Moreover, it will meet a lot of other requirements you need in a bean bag. But the main disadvantage of using Faux leather is it may not feel comfortable as you wish.
Polyester Fabrics
Most of the polyester fabrics are waterproof. In addition, they come in various colors and designs, so you can select the best material to decorate your bean bag chair. 
Commercial grade marine Vinyl
Since the discovery of Vinyl in the 1920s, it has come a long way up now. This fabric has improved the technology over the decades. Therefore they introduce a vast range of vinyl fabric types to the world.
Commercial grade marine Vinyl is one of the strongest among them. Further, the Vinyl fabric will not damage under the sun or at freezing temperatures either. So, commercial-grade marine Vinyl is used to make marine bean bags for boats.
Bean Bags Fabrics for Kids Room
Generally, people use more comfortable fabrics for their kids' room bean bags. Also, they select more eye-catching light colors for these rooms.
Therefore, microsuede, cotton, linen, and velvet are the most commonly used fabrics for kids' bean bags. Additionally, different types of designer fabrics are used to create kids' bean bags.
Bean Bag Fabrics for Office Room
Faux fur, faux suede, corduroy, and faux leather are commonly used to create office bean bags. Also, cotton and linen are the famous fabrics that are used for office bean bags. 
According to the office interior designs and colors, companies select suitable fabrics. Further, they highly consider the ease of cleanliness of fabric. 
Moreover, the brown, black, green, and dark blue colors are the most popular colors for fabrics used in office room bean bags. 
How to Care for Your Bean Bag Fabric
Bean bag fabrics can dirt with the dust and can get dust mites. Therefore you should clean your bean bag from time to time. We recommend a dump of cloth and spot clean the material at least once per day. 
But do not beach them or never wash fabrics using the washing machine if there are no proper instructions because it can adversely affect fabric color and unstitch the joints. Please treat your bean bag fabrics as you clean other microsuede furniture fabrics. 
How Much Fabric Do I Need To Make A Bean Bag Chair?
The amount and the cost of fabric will depend on the size of the chair you are making. Generally, you need a large amount of material to create a more extensive bean bag chair.
For example, you may need around five yards of fabric and six cubic feet of beans to create a regular bean bag.
Further, for a chair measuring 28 inches high and 50 inches in diameter, you will need an amount of material approximately six yards at sixty inches wide.  
Moreover, the material should cover the top, the bottom, and the sides of the bean bag chair.
Final Word
Bean bag chairs offer an extraordinary outlook for the household. Further, they may turn your life more comfortable and keep you warm and relaxed. All you must do is buy a bean bag made with the suitable fabric that suits your requirement.