A camera bean bag is a relatively different tool from a typical bean bag. In here regular bean bag is a chair that we used to sit comfortably. However, rather than that, there is a sac that bears your camera, including lenses.
Camera bean bag is a "U shape" sac with two arms. It is also made with durable, water-resistant fabrics and quality fillers.
When we move to the functions of the camera bean bag, it can automatically adjust with camera movements. So, the photographer can capture images with the best angles.
On the other hand, it is easy to carry any location. Because of these reasons, camera bean bags have become essential tools for wildlife photography and window photography.
I decided to write this article because most photographers doubt this camera bean bag and its filler type. Because they highly consider about some factors, especially backpackers. They mainly examine,
The volume of the Camera bean bag 
Weight
Water-resistant ability
These parameters mainly depend on bean bag fabric type and filler type.
When we move to bean bag fillers, all of these fillers do not match every situation. Because of that, it is essential to know what is the best filling for a camera bean bag.
Years ago, I also had some doubts about them. That's why I want to share my knowledge and experience with you!
Table of Contents
Leading Fillers Used for Camera Bean Bags
Generally, there are two types of camera bean bags available in the market. They are;
Camera Bean bag that filled with beans
Empty camera bean bags
The photographer can select the suitable one according to his preference, purpose, and budget.
Some photographers buy empty bean bags because of several reasons. 
The empty camera bean bag does not make space for your luggage. It also reduces the weight of your pack! If you are a traveler, you may know one pound is not an actual one pound when climbing rock or any other challenging destination. So, they always look at lightweight things.
When they want to fill their camera bean bags, they purchase suitable beans from their destination. If not, they tend to fill camera bean bags with natural filler that can grab from the surround. What are they? Let's check them.
On the other hand, some bean bags are already filled with beans. So, photographers do not need to pay attention to that matter. However, whatever bean bag you purchase, it is vital to know its behaviors. Let's check one by one.
Expanded Polystyrene Balls (EPS)
The majority of bean bag chairs are filled with EPS balls. If we go deep about its features, you can get the below advantages.
Water-Resistant
Due to its water-resistant ability, it can use in wet or rainy weather. Also, these EPS balls do not absorb water. Thus, you do not have to carry extra water weight.
Not only that, because of their water-resistant ability, photographers do not need extra time to dry them.
Also, it is suitable for cameras and lenses. If you use your camera equipment on the wet bean bag, the fungus can easily affect them.
Lightweight
Lightweight makes EPS balls ideal for wildlife camera bean bags. You cannot carry considerable weight when you travel miles while capturing photographs. 
The heavy-weight tools make this journey complicated.
Moreover, wide-angle lenses and cameras have considerable weight. So, most photographers search for lightweight camera bean bags to carry easily. 
That makes EPS fillers a suitable candidate to fill camera bean bags.
Tiny Balls
These tiny balls have a remarkable ability to move automatically when the camera moves. If you are a wildlife photographer, you may know how EPS balls help to move your lenses smoothly. It is unbelievable!
Hence, the photographer can easily position their lens without extra effort. The important thing is that when you move your camera on the bean bag, animals won't notice anything.
Low Noise
Noise can badly affect photography, especially wildlife. So, whatever equipment you use in wildlife photography should not disturb animals' natural behaviors.
However, you do not need to worry about noise when considering the EPS balls. You can capture great wildlife shots using it!
Durable
When we talk about durability, expanded polyethylene balls hit top rankings. Rather than any other filler type, it has long durability. Typically, you can use them for 5-10 years without any issue!
You can capture photos using these bean bags at low shutter speed. So, I can recommend expanded polystyrene balls or mini EPS balls as the best camera bean bag fillers rather than other fillers. It is an ideal filler type of camera bean bag, including bean bags used for windows photography.
However, there are cons related to this filler. Thus, EPS balls are not biodegradable. Because of this reason, some wildlife photographers do not like to use it. But we can not underestimate EPS balls' features!
Suitable for Any Weather Condition
Where are you willing to go for your next journey? Is it middle-east? Rian forest or rocky mountain range?
Whatever the place, you can use a camera bean bag with EPS fillers. It has god tolerability with temperature and environmental factors.
Use on Water
Some photographers use camera bean bags on water surfaces. Rather than water-resistant ability, these low, dense EPS balls have the buoyance ability. 
Therefore, anyhow you want to place your camera bean bag on water, EPS balls will work!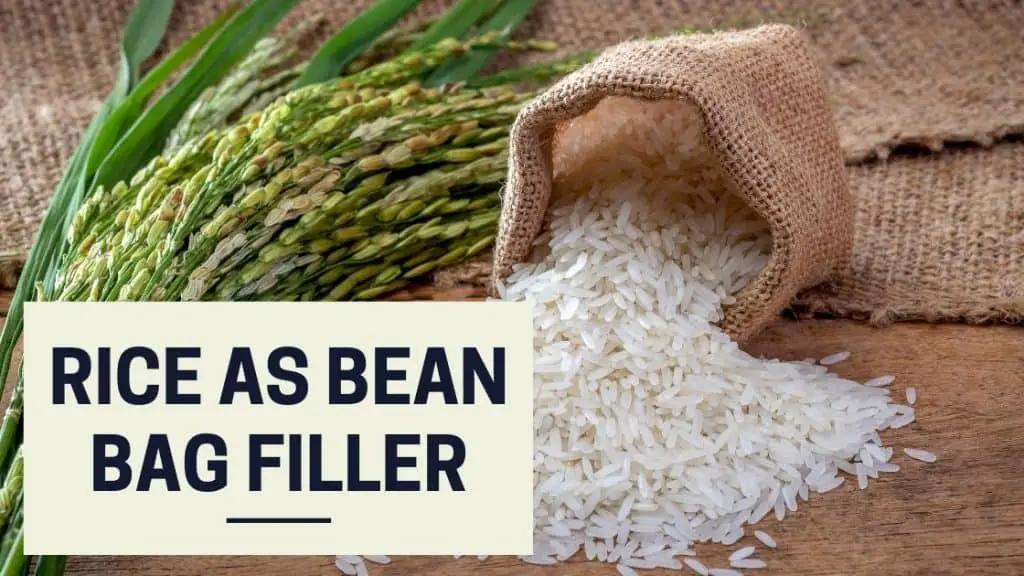 Rice for Camera Bean Bags
Rice is a natural filler type. Mainly it is used by the people who love the environment.
So, rice is a mostly available filler. Also, it is cheap. Because of these reasons, some photographers fill their camera bean bags with rice.
However, it is not a good choice if you travel in the rainy season. When rice gets wet, it will start to deteriorate. Moreover, pests can attract it and destroy your camera bean bag.
However, if you have a water-resistant camera bean bag, it will protect against wet conditions. On the other hand, if you are going on your journey in summer, rice will work better in that climate.
If we move to smoothness, noise, and other features, rice does not smoothly adjust with the camera and surfaces as EPS balls do. Also, they can produce some noise while moving. If your surroundings are calm, animals might be able to notice it.
Further, you may need 5,6 kilos of rice for your camera bean bag. So, it is a bit heavy than a bean bag filled with EPS balls.
Buckwheat Hulls for Camera Bean Bags
It is substantially lighter than rice. Also, these natural seed has irregular shape. It helps to prevent the whole setup from hardening or tough.
This filler type is mainly used by photographers who love nature. The 2 lb buckwheat hulls are enough to fill a small or medium-sized U-shaped camera bean bag.
However, this weight can differ with camera bean bag volume. You can purchase them easily from Amazon. The Tamrac and Kenisis are the most famous brands.
Like other natural filler types, the buckwheat durability depends on weather conditions and usage. Therefore, I recommend using all seed type fillers in dry weather conditions. Then you can get a great shot without worrying about your tools.
Sunflower Seeds (Bird Feed)
Sunflower seed is also a popular option for camera bean bag filler. If we rank all these natural seeds in terms of weight and density, We can rank sunflower seeds between the rice and buckwheat hulls.
When you use natural fillers, you should ensure their weight, durability, and condition will match with your journey type,
Final Words
I hope now you have a good idea about the best filers for camera bean bags. The superiority of the filler may depend on how much is it match your journey. 
Especially if you are a backpacker, you should consider these factors seriously. Before further discussion, go and enjoy with your camera bean bag!