The bean bags are back with a bang.
The newest range of bean bags is centered on comfortable, multi-functional and sleek designs. They are surely the funky alternative for kid's rooms and dorms. Some bean bags can even transform into stunning looking beds, and that makes them bliss for the small spaces.
You can even get your hands on oversized and beautiful suede and leather options. These bean bags work well in home theatres and casual libraries. There are exclusive outdoor beanbag models that offer an innovative way to watch the mesmerizing sunset while sipping your cup of coffee.
Are you confused regarding which style and size to opt for?
Well, keep on reading.
Table of Contents
Deciphering the Concept of a Beanbag Chair
Now that we have sketched such a wonderful picture of a Beanbag Chair, it is time to understand what it is all about.
Well, in simple terms a beanbag is a huge fabric bag that is filled with dried beans, polystyrene beads or any other substance of a similar nature.  The Beanbag Chair is the perfect example of an anatomic chair. You can get the beanbag chair in varying sizes.
You can also opt for adult beanbag chairs. Having said that, if you want an oversized bean bag, then it would require about 1.5 kg of beans to fill the bag.
History
Now that we have understood the basic concept of a Beanbag Chair.
Let us have a flashback about the history of the Bean bag chair as well. This way you can perceive a clearer perception.
60's:
Roger Dean designed the Sea Urchin Chairs using foams. It was the first predecessor of bean bag chairs. A new version of the beanbag chair came up on the forefront in 1969 as well. The Italian designers Teodora, Paolini, and Gatti got together to work on the Zanotta Design.
They were focused on creating the appropriate type of chair for marketing the flower power generation.
They wanted to come up with a chair that looked practical and stylish and had a flavor of 60's as well. These beanbag chairs became popular by the name of Sacco. Sacco was the first chair of its kind that could adjust according to the person sitting on it.
70's:
The 70's was the first time when the world could witness the real face of the beanbag chairs. The beanbag chairs of the 70's showcased the superior quality and were quite similar to the beanbag chairs available today. Styrofoam pellets used as the filler of those beanbags and made up of leather.
90's:
In the 90's a casual look was given to the beanbag chairs so that they could suit the everyday needs.
Now coming to the beanbag chairs of today, they are made from the washable fabric and does not tend to tear away like leather.
The Endless Uses of Beanbag Chairs
There is no second opinion about the fact that you would find a beanbag chair to be the most useful item in your house. These chairs are available in a wide variety. You can choose any type, so the choice completely depends upon you.
Did you know? 
"Manufacturer has purposely overfilled your beanbag chair"
The reason is that an overfilled chair can serve the purpose of a perfect bed for lying down. When you want to lie down on your chair, then you need to sit near the front of it and start rolling back into it slowly. Ideally, you should go for a soft bean bag chair for this purpose.
If you get hold of one of the big bean bag chairs, you can sit up and enjoy reading your favorite book. You can definitely add this element of freshness to your lounge by using it as a love seat or simply use it as a bean bag lounger. You can even opt for a 7-foot chair for your lounge to enjoy the movie marathons.
for gamers;
If you love out-of-the-box ideas, then you should surely be pleased by the idea of a gaming bean bag chair. It might come up as a surprise for you, but the beanbags are quite popular with the gamers.
Sitting in an awkward position can diminish your gaming abilities. This chair provides you the perfect range of arm motion so that you can enjoy playing your favorite games.
If you love the idea of pampering your pets, then it can prove to be the perfect bed for your adored pet. Yes, it is a good idea that it makes a lasting bed for the pet.
babies and kids;
Be as innovative as you want, with the use of your beanbag chair. baby bean bag will be a good application of your bean bag. However, make sure that your beanbag chair is double stitched and fully over locked for the protection of the baby. Moreover, you need to go for reputed brands when you buy baby bean bag.
There is no doubt about the fact that as children grow up, they develop their own liking and disliking. All toddlers want their room to have this appealing look for them. You need to come up with out-of-the-box ideas to please your little one. Well, you can easily add the special touch to the toddler's room with the addition of a toddler bean bag chair.
For example, if you want to spice up the room of your little boy, then you can have baseball bean bags in his room. This is surely a mind-blowing idea when you decide to buy bean bag chairs for toddlers. Moreover, it will give this boyish look to the room.
If you want to give a girly touch to your girl's room, then you can opt for colorful girls bean bag chair. This will add a decorative element to the room as well.
Read for more uses of beanbag chairs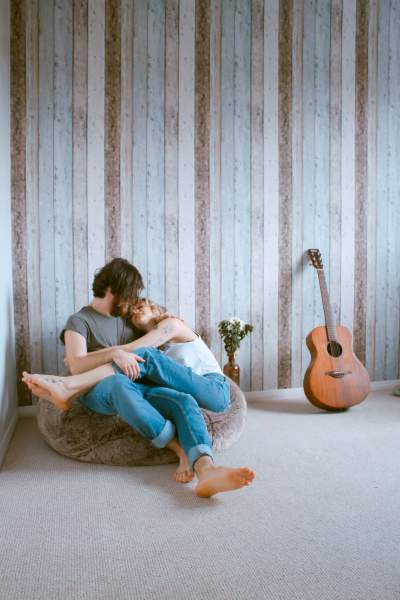 Vital Things to Remember When Buying a Beanbag Chair
Now that we have looked into the uses of the beanbag chair, here are some essential things you need to remember when you are obsessed with the idea to buy a bean bag.
Removable Outer Sleeve: When you buy your beanbag, chair make sure that you go for the one that has a removable outer sleeve. Such bean bags are coupled with liners that are water-resistant, and they tend to contain the filling as well.
Polyurethane Filling: Nowadays cheap bean bags are also available in the market. You need to remember that the filling often leaks out of these beanbag chairs because of durability issues. Try going for more durable and expensive options that have polyurethane filling. You will not have to face leakage issues with these beanbag chairs.
Sizes as Per Space: When you are buying a beanbag chair, make sure that you make your pick as per space. For example, if you are buying the beanbag chair for a small room, then you should opt for small bean bag chairs. For huge rooms, you can select giant beanbag or large bean bags.
Material or Fabric: You should also consider the beanbag material when making your purchase. For example, vinyl is more popular in comparison to leather bean bag
Cleaning and Caring of Your Beanbag Chair
Now if you want your beanbag chair to last long, then you need to clean and care for it.  Here are certain instructions you need to follow when cleaning.
You should wash the removable covers in a washing machine.
Use a cloth which dipped in soapy water for vinyl beanbag chairs.
Use a brush to clean the beanbags which are covered by suede.
For cleaning a plush or velvet beanbag chair, you should use a damp cloth.
For cleaning leather beanbag chair, all you need is a clean towel.
Refilling Beanbag
Now that we have discussed various aspects of a beanbag chair, let us also explore how do you need to refill a beanbag chair.
When you have to fill your chair, you have to hold your chair open.
Now you need to pour the filling into the chair carefully. Make sure that you fill your beanbag chair in a room where there is no breeze. The reason is that the filling will blow around if there is a breeze.
Once you have added the filling in the chair, then make sure that you close the zipper.
Now you need to sit on the chair. You will get the feel as if you are sitting in the quicksand.
However, if you feel that your chair is stiff, then you may need to add in more filling.
Read more on how to refill a beanbag chair at home
Make sure that you follow the guidelines mentioned above when you are buying a beanbag chair.
If you have anything in your mind about these chairs, then don't forget to share your thoughts in comment section.