'Bean bags,' the name itself reveals the materials used. This statement is halfway true, but not completely anymore!
Initially, bean bags were made of natural dried beans or grains. And then, eventually, people started to use synthetic beans to reduce the drawbacks of raw stuff. Later, many other synthetic alternative materials were introduced to enhance the filler's quality, where bags are now available even without beans. 
Therefore, it is worth to know about these various bean bag fillers before you make a purchase.  
In this article, we are going to talk about
Natural and synthetic beans for bean bag chairs.
Commercial alternatives for bean bags other than beans.
Pros and cons of these materials.
Table of Contents
Natural Beans for Bean Bags
When people were happy with raw stuff, they used beans, readily available at their surroundings, for their bean bags. They used well-dried beans, hard grain kinds such as rice, or even thrown away stuff like buckwheat hulls. These materials are not durable and not that comfortable too.
Thus, they used comfortable linings to cover the bean bag's inner sack to achieve comfort. 
With advancements in technology, synthetic beads came to the market to cater to natural bean bag fillers' drawbacks. Here are some popular synthetic bean types you may find while you shop for a bean bag.  
Synthetic Materials
EPS – One of the most popular bean bag filler is expanded polystyrene (EPS). It is a very light bead kind, which is water and heat resistant. EPS is a hard-celled plastic kind of material that contains 98% air in it. These beads are very popular among users for its durability and lightweight.
EPP – EPP, Expanded polypropylene, is another popular synthetic bean type used for bean bag furniture. EPP is a durable and strong material that retains its quality for a long time. Also, it does not contain any strong odor, as many other synthetic types do have.
When compared with EPS, EPP is more durable as the material can return to its original formation after been deformed due to weight. There is a good demand for EPP beads, especially in Asian, U.S., and the European market. The main drawback of this material is its' vulnerability to heat. 
Micro-beads – Microbeads are better for soft use. The beads are tyne, smooth, and round in shape. Therefore, these fillers are not recommended for large bean bags but mostly for pillows and soft toys.   
Are There Bean Bags Without Beans? 
Bean bags without beans? Yes, there are bean bags without beans. Apart from the synthetic beads available in the market, there are alternative fillers for bean bags which are not beads. Let's see some popular alternatives for beads.
Air – Air filled bean bags are a perfect multi-functional choice for anybody. These bean bags are suitable for both indoors and outdoors. Since the furniture is light in weight, it is super cool to shift from one place to another.
Usually, air-filled bean bags are made of nylon materials and designed to inflate easily. Though its' made of air, the furniture is strong, durable. Pool bean bags are one of the famous examples of air-filled bean bags. 
Cloths- Bean bags filled with cloth is another type without beans. Clothes are not comfortable filling compared to other bead types. Also, the cloth fillings get flat with time easily so that the comfort will decay.  
Foam– Memory foam is a trendy filler for bean bags nowadays. Memory foam is also referred to as 'Compressed foam,' 'viscoelastic foam,' and 'low-resilience polyurethane (LRPu).' The comfort, its' durability, and affordable price increase its popularity.
These fillers are used for any bean bag piece starting from pillows, chairs, loungers to mattresses. The ability to shrink its' size to one-quarter of its' original size makes shipping and transport easy. Leather-like thick outer covers are more suitable for foam fillers as it gives the maximum comfort.  
 Cotton/ padding – Cotton and padding are another choice to fill bean bags instead of beads. These fillers are not that popular among commercial products as they are less in quality than other fillings. Padding and cotton fillers easily get flat due to weight and not that comfortable for long term seating.
Also, it is not a good option for wet conditions unless you use extra waterproof lining.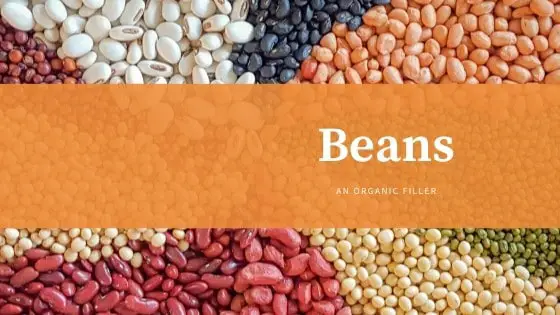 With Beans or Without Beans? What is Better?
When purchasing a bean bag chair, there are many points that you will look into. Price, comfort, durability, purpose of use, size are few of them. These facts do vary according to the filler and the cover of the piece. For example, bean bag chairs filled with memory foam are durable and not expensive.
But, sometimes, those items are not that friendly when it is finished with a thin cover. But, if the chair is covered with thick material like leather, it will be a super comfortable stay for the user.
Another example is bean bags made of microbeads. Microbeads are used for delicate use, such as pillows. But some countries have banned microbeads as they are not environmentally friendly.  
If you are looking for a piece that lasts longer, it is better to move for a synthetic material. It can be synthetic beads, foam, or air. For a person looking for a bean bag for indoor and outdoor use, air-filled ones are a great choice. It is easy to handle, light in weight, and durable. 
Here are a few key points that you must remember when deciding on bean bags without beans or beans. 
The bean bags without beans can be customized, or you can DIY in a very short period. You can choose the material of your choice to have the outer covering of the bean bags. 
Bean bags are made of synthetic beads like polystyrene will be a better choice to be safe from insects. Synthetic material will not allow the growth of insects or fungi or bacteria onto them. If you live in a humid area, then synthetic bean-based bean bags are a good choice.
In casual, bean bags filled with beans are more comfortable than air-filled bean bags. Beans will help you to maintain the natural curves of the body while you are sitting. It is why the concept of bean bags became so popular over hard furniture. If the beads are not there, then you will have to compromise with the level of comfort. 
Allergic to synthetic beans? Then the option is natural beans.
If you have allergic reactions to synthetic stuff, then natural beans may work for you. Materials like pulses, kidney beans, and soybeans could fill your bean bags. Since filling bean bags with natural beans, will lead to wastage of food grains; usually, the users are not encouraged for those fillers.
But if you use raw stuff, make sure you recycle the beans repeatedly to minimize wastage.
Read our guide on how to clean bean bags without removing beans.
Summary
There are bean bags with beans as well as without beans. But as a rule of thumb, bean bags filled with beans are more comfortable than other alternative filled pieces. It is due to its ability to reshape according to the body curves.
But there are fairly good alternatives available in the market such as foam, air. Further, natural bean fillers can be recommended for users with allergic reactions to synthetic stuff.