Most people find bean bags a suitable place for sleeping even when compared with expensive and highly reviewed bed and mattress combinations that they have been sleeping on their whole lives.
You can sleep on bean bags or bean bag beds, and there is no harm in it. But you need to make sure you are sleeping with the correct posture. Abnormal posture will lead to back pains.
Most people drift off into their dreamlands only a few moments after they sit on a bean bag chair due to the form of comfortability which is only known to be provided by the unique design of these beautiful creations. 
It is also a fact that most of the schools even had to remove bean bags from their classrooms and retire them to playrooms and reading rooms because of this magical ability it has to put anyone to sleep within a few minutes of contact.
But the actual question you should be asking is not whether you can sleep on a bean bag chair but whether you should be sleeping on a bean bag chair.
And with this article, I try to answer that very question in depth.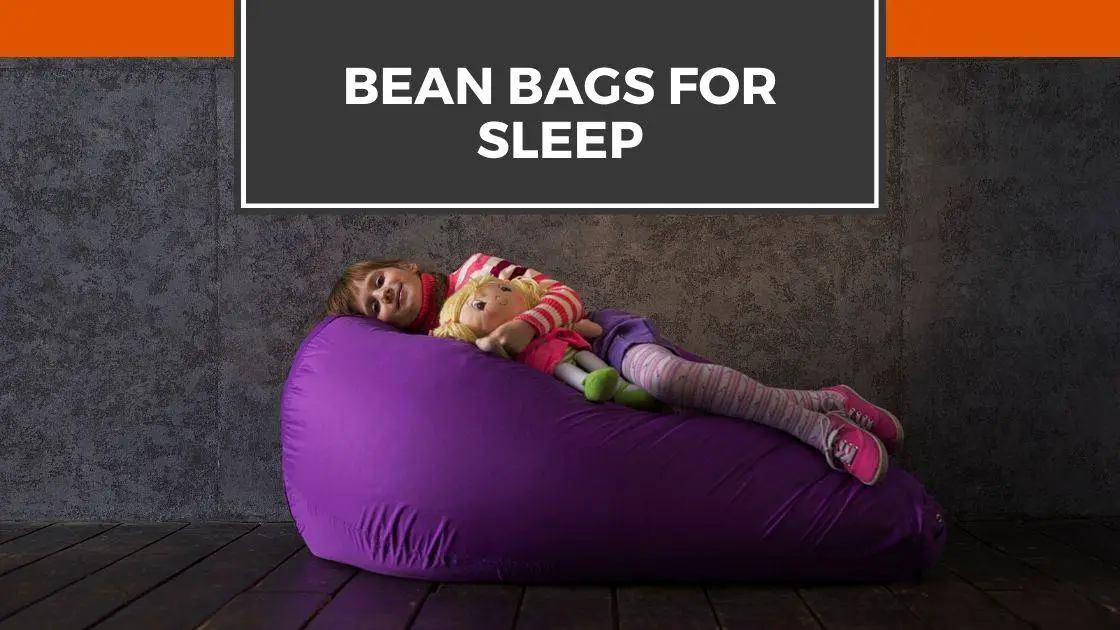 Table of Contents
Is it Safe to Sleep on a Bean Bag?
It is safe to sleep on a bean bag on most occasions, and it is proven beneficial for you in many ways. This is mainly because of the unique ability to change its shape to suit anyone's body shape, size, height, and weight, only limited by the fact that the bean bag itself is large enough to support that person or thing on it.
Here are few things bean bag beds do for you other than giving you a restful and comfortable sleep.
Bean Bags Help you with Your Back Pain
"Are bean bag beds good for your back?" is the question many people ask, and the answer they hear is the reason many people buy bean bags. Bean bags are a perfect remedy for your back pain if you already have them, and it is also the perfect way to prevent having one if you are one of the lucky people who do not have to suffer that fate. 
Most other furniture in the market doesn't support your back fully, and even if they support your back, you would have to sit or sleep in a specific way to get that support. Bean bags support both your lower and upper parts of the spine and provide pressure equally from all sides, helping them align correctly.  
This reason is also why you can sit on a bean bag for hours without getting tired or in any pain. But make sure that you do not sit or sleep in an abnormal position.
It Corrects the Body Posture
One significant disadvantage with almost any furniture is that they require you to sit or sleep on them in a specific posture if you don't want to hurt yourself while doing so. The most significant advantage of having bean bags is they do the exact opposite of this. 
You do not have to be in a specific posture when you are sitting or sleeping on a bean bag as the flexibility makes sure you get almost no extensive pressure on your hips, lower spine, and sciatic nerves. In other words, this given support to your spine makes you have a proper posture while sitting on a bean bag and that in turn help your spin to be in the natural form it should be. 
Nursing homes, elderly and pregnant women could use bean bag beds because of this specific benefit alone to make their lives more comfortable.
Reduce Tension Headaches and Neck Pains
Your spine is not the only victim of the wrong posture. But these wrong postures are among the significant reasons why people have neck pains and tension headaches too. Sitting on bean bags is more than just a solution for this problem as it is also a remedy that could help you relieve them if you already have neck pains and tension headaches. 
When you are sitting or sleeping on a bean bag, your muscles on your neck relax as it doesn't have to support your poor sitting or sleeping posture anymore and start to heal itself gradually.
Reduce Muscle and Joint Pains
Other things bean bags could help you with are the muscle and joint pains that might have tormented you for a long time. Typical hard and soft furniture you sit on or sleep on only makes pains more severe or ease them for a moment only if you sit or sleep on them in my specific manner, and they request you to do so. 
But bean bags take this to a new level by making you feel at ease while sleeping or sitting on them and helping your muscles and joints relax and gradually heal themselves by not putting stress or pressure on them unnecessarily. 
Bean bags are also proven to help people back from surgery or people who have faced injuries to heal themselves thanks to the unique ability it has adjusted according to any shape and support the whole body of a person who sits or sleeps on it.
Relax Body and Mind
Bean bags are not just about helping your body by making it comfortable and helping it to heal, and help you to relax. It is also about helping your mental state and eases the stress you are feeling due to your personal life or work. 
It is a fact that sitting or sleeping on a bean bag helps the user to create their mind and be peaceful. This feature is also why these beautiful creations have found their way into many workplaces and resting areas of individuals.
At the beginning of the article, I told you that it is safe to sleep on a bean bag on most occasions. Because there is an occasion where it is not safe to sleep on a bean bag, this one occasion is sleeping on a brand-new or newly refilled bean bag.  
It is okay to sit on a brand-new bean bag with newly unpacked memory foam or a bean bag bed refilled with such, but sleeping on such a bean bag could harm your health. The reason is the memory foam used to fill the bean bag, which can cause breathing irritations for some individuals.
But this only happens with newly unpacked memory foam, and even that fades away when you are using it for a few days. Apart from that simple setback, bean bags could be considered as the best place anyone can rest their eyes.
Babies and Bean Bag Beds
Bean bag chairs and bean bag beds market themselves as a safe place for anyone of any age to sit and rest. This claim is primarily valid as even a pregnant lady could lie on their belly on a bean bag without fear of injuring the baby inside them. Thanks to its ability to change its shape to support who or what is on them entirely.
However, it is not safe to put infants on a Bean bag chair or a bed without close and constant observation. Because of the suffocation risk, they pose as they can't lift their heads or turn upward if such a thing happens. You should also have to make sure that you have the bean bag firmly packed with no or almost no space between the fillings in the bean bag if you are planning to put a baby on it. 
You should also make sure your bean bag is with safety zippers and is made from solid materials which are impossible for your baby to tear and open, as the stuffing in the bean bag is a choking hazard for toddlers. However, bean bags manufactured in the current days with various inbuilt safety precautions prevent such things from happening.
What about Baby Bean Bags?
These are bean bags specially designed for babies and are with special safety precautions built into them to ensure that they are safe for use. This kind of bean bag is the best choice for any parent with a baby, and the ultra-soft material they are made with is guaranteed to keep your child comfortable.
However, I must advise you to read the safety instructions and ask the seller to explain precautions you have to take as it's your baby health and safety we are talking about. You should also always buy a bean bag for your baby from both a reliable and experienced manufacturer.
You can read our bean bag expert's guide on baby bean bags from here.
How long can a baby sleep on a bean bag?
A baby can sleep on a bean bag for few hours. And it is shown that babies love to sleep on bean bags, and they love to spend time on them as long as you let them be there. But as said before, you shouldn't put your babies to sleep on bean bag beds without close and constant observation, even if it is a bean bag bed made for babies.
Here are few best bean bag beds that promise you a restful sleep.
Best Bean Bag Beds
CordaRoy's Chenille Bean Bag Bed
4.5 stars with above 4,641 reviews
You might be familiar with this bean bag if you are a fan of the Shark Tank show. This CordaRoy's Chenille bean bag bed will be an excellent choice for you if you live in a living area with limited ground to spare, as this convertible option is a two in one deal that can serve you as both a bed and a chair. 
Yes, this bean bag bed is foldable into a bean bag chair easily. All you have to do is fold and slide into the cover to convert the bed into a comfortable chair, remove the cover, and flip the inner cushion to turn the chair back into a bed. 
It is such an easy process that even a child could do.
This bean bag bed is filled with foam that is long-lasting, soft, comfortable, and supportive. The plush microfiber cover of this bean bag bed is soft-to-touch and is with durable woven backing. It also has an extra-long zipper Which makes it easy to remove, and you can wash this in your washing machine without any difficulties as it is both washer and dryer safe.
This bean bag bed also comes in several colors, which are both appealing and suitable to be used with any variety of decoration that you might have in your place of living or workplace. You can also choose from the three sizes, namely Full, Queen, and King sizes, to suit your needs.
CordaRoy's Chenille Bean Bag Bed is an excellent addition to your game room, family room, kids playroom, or even your home office or working area as a bean bag chair. As a full-size bed, it will be helpful when you are with extra guests staying or at slumber parties. It is also a great place to relax on, and I wouldn't blame you if you decided to abandon your regular bed for this beautiful furniture.
Chill Sack Bean Bag Chair
4.2 stars with above 1,299 reviews
Chill Sack Bean Bag Chair Would be a fun addition to your house and for everyone in there. This giant-size bean bag bed is a perfect furniture addition to any basement, family room, hostel room, or bedroom, whether as a gaming chair, a study spot, or the bed you sleep in. 
It is also an addition to your workspace or home office if you wish to go on with your day today, tedious work while being fresh all the time. This wonderful furniture is also with enough space for two to sit on or sleep in a while, cuddling while enjoying your beloved TV show or movie together.
These Chill Sack bean bag beds are stuffed with soft memory foam, shredded to provide the best possible comfort. They are highly durable and can maintain their shape even in harsh conditions. They also help increase the comfort levels of these bean bag chairs to provide an ultimate chill moment.
Chill Sack Bean Bag Chair Will surely be at home in your house whether you put it in your living room or office room. You can make it well fit with the colors of your walls and the decorations in the room with ease as this bean bag comes with a variety of colors that range above 30 choices with the hope of catering to your individual choices.
Chill Sack Bean Bag Chair is also with a removable double stitched Microsuede Fiber, durable and soft to the touch. It is resistant to stains and discoloration, which will further ensure the durability of the bean bag bed. 
It is also built for easy maintenance as all you have to do is washing it with cold water and air dry it to make it fresh as new again.
Leachco Pillay Plush Sling-Style Lounger, Latte
4.8 stars with above 448 reviews
This Leachco Bean Bag Bed is the perfect bean bag bed for little kids to lounging or napping and a must-have in your house if you are with a young girl or a boy. Leachco Pillay Plush Sling-Style Lounger is made in the US, and it is 100% polyester production. 
This bean bag bed is a unique production when compression with any other bean bag in the market for several reasons. The main one is the center stretch panel and adjustment tabs in it which automatically adjusts with the child's weight who naps on it. 
This ability also helps the bean bag bed to fine-tune your child as he or she will quickly grow as any other child of that age would do.
This bean bag chair also promises to give your child the best comfort, whether he or she is using it for playing, reading, watching TV, or napping. This bean bag's luxurious plush fabric cover is easily removable by an adult, and it is machine washable. All you need to do is fluff this bean bag bed just like you do with any other type of pillow if it went flat after being used for an extended period.
Conclusion
As for an overall, bean bags are among the best places one could choose to sleep, and it does much more than giving you a space to be relaxed on. However, you must always select a high-quality pillow-grade foam for your bean bag bed with a childproof zipper and double stitching for its cover for extra safety and ultra-comfort.